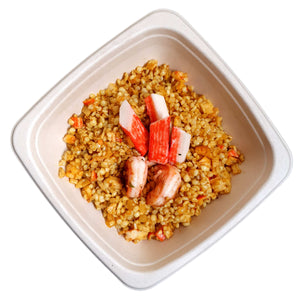 What makes Isabel's Fried Rice healthier than the usual fried rice?
-We use Adlai, which is a great alternative to white rice because it has a low glycemic index and is a high source of calcium, iron, & magnesium.
-Higher fiber content
-Lower in calories compared to other types of rice
-No MSG & No preservatives.
-Loaded with veggies and protein
-We use olive oil which is healthier compared to vegetable oil.
INGREDIENTS:
Adlai
Onions
Shrimp

Crabsticks
Coconut Milk
Spices
SERVING SIZE:
Good for 2-3
ALLERGENS:
Contains seafood 
Seafood Curry Adlai Rice
Regular price
₱490.00
₱0.00
Unit price
per
Tax included.
MENU FOR THE WEEK
Sept 25 - Sept 29, 2023
Power bowls
I enjoy the salads and power bowls. In fact, I order almost every week. Helps me keep my food choices in check and maintain a healthy diet. However, I've noticed that the dressings for the powe bowls often get mixed up, as they are not inside the container (compared to the salads). I hope you do something about this. Thanks
Flavorful and healthy
I tried the Seafood Curry Adlai Rice because I love seafood and curry. I've never had adlai so this was a perfect first try. Flavorful and filling. The seafood were cooked well and I loved the mild curry flavor, not spicy at all. Perfect for someone who has gerd. I wish they also have this in their full day meal plans as a lunch meal.