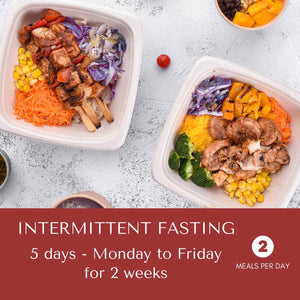 DELIVERY SCHEDULE:

Monday to Friday
We deliver daily from 5:30 am to 8:00 am for LoCal, Daily Keto, High Protein, Pescatarian and IF meal plan and 8am to 12nn for one meal a day meal plan.
NOTE: We can't guarantee exact time of delivery as delivery routes may change daily. 

IF Meal Plan 2 Weeks
Regular price
₱7,000.00
₱0.00
Unit price
per
Tax included.
MENU FOR THE WEEK
Oct 2 - Oct 6, 2023
Yummy!
I've been ordering from Isabel's for years now and i've tried most of their offering - salads, powerbowls, rice rolls.. After finding my way through their meal plans, I've settled on the IF plan which is the right amount of food to fuel myself through the day. On this cycle, i ordered for two weeks cuz this is about the longest I can handle. Admittedly, at this duration, you'll start to encounter similar flavors so I need to change it up. I'm doing salads and powerbowls this week for two weeks ulit.
For the frequently asked questions --
DID I LOSE WEIGHT? - No.
ARE YOU STILL HUNGRY? - Actually, No.
WHAT IS THE BIGGEST CHANGE? - I am not bloated! My pants fit a little better.