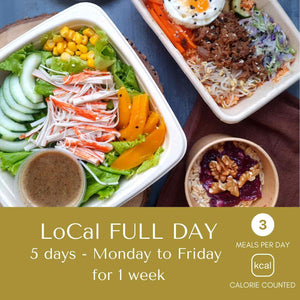 Delicious and filling calorie-counted all day meals
DELIVERY SCHEDULE:
Monday to Friday
We deliver daily from 5:30 am to 8:00 am for LoCal & Daily Keto meal plan and 8am to 12nn for one meal a day meal plan.
NOTE: We can't guarantee exact time of delivery as delivery routes may change daily. 
1 Week Full Day Meal
Regular price
₱3,500.00
₱0.00
Unit price
per
Tax included.
MENU FOR THE WEEK
June 13-17, 2023
LoCal
So convenient and healthy! It made my diet so appetizing! 🥰😊❤️
Quality Healthy Meals
I appreciated how thoughtful your healthy meal options are. I love the consistency when it comes to the freshness of produce, menu is always palatable which is sustainable for me and the delivery service is on point when it comes to communication and timelines.
Yummy and healthy
I love that it's always salad for dinner. It's light and healthy, and the dressing is always tasty! I also enjoy the champorado. Can I buy that chocolate lang? Lunch is tasty and filling. I like their sinigang bowl and Mediterranean bowl. Overall, food is well prepared, and yummy. Packaging is environment-friendly. Thanks Isabel's and team. Great job!
Taste is very good and well-prepared. The only challenge is the timing of delivery, normally arrived between 7:20 AM to 8:00 AM Since my work shedule ended around 4:00 AM, I need to wait for it. Suggest to have an available delivery the night before.
Healthy meal
Healthy meal and delicious! Very convenient. Service is nice. I just don't like the ube champorado for breakfast hope for more warm and savory meal for breakfast.