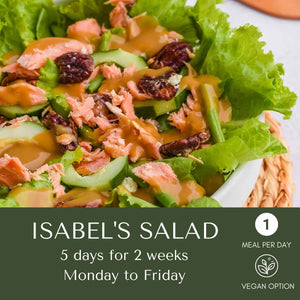 We can plan your healthy week out for you! Free delivery of 1 meal per day based on the plan you choose (12 noon cutoff)
DELIVERY SCHEDULE:
Monday to Friday
We deliver daily from 5:30 am to 8:00 am for LoCal & Daily Keto meal plan and 8am to 12nn for one meal a day meal plan.
NOTE: We can't guarantee exact time of delivery as delivery routes may change daily. 
5 Day Subscription - 2 Weeks
Regular price
₱3,750.00
₱0.00
Unit price
per
Tax included.
MENU FOR THE WEEK
Oct 2 - Oct 6, 2023
salad meal
All good except for the last 2 deliveries with the pasta on top of it which i never really liked . Great customer service though
Always Good!
Isabel's has been my go to salad delivery store for years. They always offer the freshest and most delicious salads! Quick and friendly service too!
Always something to look forward to
Each day I'd find myself anticipating lunch or dinner as then I'd be able to try what that day's salad is. There was never a disappointing experience. Everything was really yummy and good. The serving is also ample- sometimes when I'm not too hungry I'd half the salad for lunch and dinner and still it was enough and satisfying. Even if I have it for dinner it's still crispy and fresh. Now that I've tried their salad, I ordered the meal bowls for next week so I can also try them. This is really a good way to keep eating healthy!
2 week salad subscription
Isabel's helped me kickstart my healthy journey
With the two week plan I subscribed to, I was assured of at least eating a serving of greens per day.
The best part? Their salad were delicious. So it was a joy eating my way through a healthier lifestyle.
I love that they were flexible enough to allow my request to nix pasta and tempeh on my salad.
Im now hooked and will subscribe again
Healthy and yummy!
They say it's best to keep it light at night and what is more perfect than having a salad that's not only healthy but also tastes real good! I like that there's a good balance of meat and veggies and I don't get hungry late at night. The only thing is I wish they had macros for it. For people with health issues :)