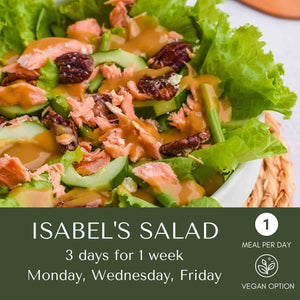 We can plan your healthy week out for you! Free delivery of 1 meal per day based on the plan you choose (12 noon cutoff)
DELIVERY SCHEDULE:
Monday, Wednesday and Friday
We deliver daily from 5:30 am to 8:00 am for LoCal & Daily Keto meal plan and 8am to 12nn for one meal a day meal plan.
NOTE: We can't guarantee exact time of delivery as delivery routes may change daily. 
3 Day Subscription - 1 Week
Regular price
₱1,100.00
₱0.00
Unit price
per
Tax included.
MENU FOR THE WEEK
Oct 2 - Oct 6, 2023
Tasty food!
I always enjoy their meals. This is a good meal plan for starters. Definitely recommend for those who want and add veggies and fruits in their diet slowly.
Eating healthy shouldnt make you feel miserable
I am very satisfied with Isabel's. It's the only "diet" food I enjoy eating and I've tried others. Thank you for not making eating healthy a chore.
3day Salad Subscription
Loved the salads the first 2 days. The last day though, I forgot that there was supposed to be a delivery and our doorbell could not be heard in the bedroom. I just noticed at around 10am that there was a package hanging on the gate. It had been sitting there under the scorching sun for hours. I know my fault bec I forgot but the rider should've been able to contact me by phone. A little extra mile to make sure that the food is received by the customers fresh. Had to throw it away, what a waste.
3 day subscription
Salad and wrap portion is big,
I prefer to have more of the salsa please. Delivery time also is late because i would like bring it with me, i hope it will follow the same time as the meal plans, which is between 5am to 8am. Thank you.
Easy Shift to Healthy Meals
Made the shift to eat healthy quite easy for full time employees and housekeepers. Only hope the delivery time could be more consistent. Sometimes I had to rush out of bed, other days I am already waiting for my lunch to start but other than that, no issues.