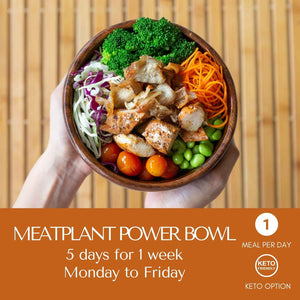 We can plan your healthy week out for you! Free delivery of 1 meal per day based on the plan you choose (12 noon cut off)
DELIVERY SCHEDULE:
Monday to Friday
We deliver daily from 5:30 am to 8:00 am for LoCal & Daily Keto meal plan and 8am to 12nn for one meal a day meal plan.
NOTE: We can't guarantee exact time of delivery as delivery routes may change daily. 
Meatplant 1 week 5 days
Regular price
₱2,210.00
₱0.00
Unit price
per
Tax included.
MENU FOR THE WEEK
Oct 2 - Oct 6, 2023
Best Tasting Meal Bowls
Well cooked! Tender meat, nice sauces with proper portions for those who want to improve their diet :)
Filling and delicious
I enjoyed my first full week Meatplant plan very much. I was a bit concerned that I might find the meals "bitin" or would end up hungry early, but was pleasantly surprised to find that I was full and satisfied with enough energy and pep to get me through the day. The flavours and variety of the bowls were also excellent. The customer service was good and the delivery was timely and the items arrived in good shape.
Sustainable healthy diet
Isabel's meals are delicious so its great for long term healthy diet.
I just wish there will be more variety of flavors and a bit more serving. Otherwise, its perfect
Love this meal plan
Very filling and I love the flavors. Highly recommended. I also ordered the chips with dips. Super fave!
Highly recommend!
Great mix of protein and veggies!