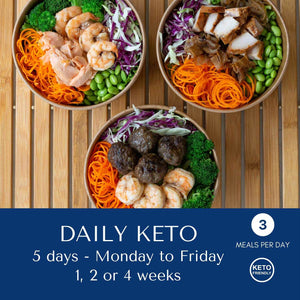 Delicious healthy fat, low-carb, moderate protein meals for the whole day.
DELIVERY SCHEDULE:
Monday to Friday
We deliver daily from 5:30 am to 8am for full day meal plan and 8am to 12nn for one meal a day meal plan.
NOTE: We can't guarantee exact time of delivery as delivery routes may change daily. 
Daily Keto
Regular price
₱3,750.00
₱0.00
Unit price
per
Tax included.
MENU FOR THE WEEK
June 5-9, 2023
Good tasting. Needs more servings.
You'll get lunch and dinner salads with this meal plan, but breakfast is pudding and doesn't even fill the entire small container. In addition, lunch and dinner meals don't have enough veggies, so the meals are not satisfying. The bowls in their ads look bigger, filled to the brim, but the actual servings are smaller.
Lifestyle made easy, weight loss & management made easy!
I lost 50 lbs in the past, my main issue was that i could not prevent the weight from coming back due to the stress and lack of time: food prep + gym time + work time + other activities.
Isabel's Keto Meals has helped me overcome that challenge by providing me a nutrient dense food source. This is diet and lifestyle made easy and practical!
I have been able to consistently stick to my preffered diet and more importantly - i do enjoy the meals! I use this program both for maintaning my current weight, or loosing weight (depends on what i want):
Weight maintainance - eat the meals separately plus add on a few proteins - watch you total caloric intake though.
Loose weight - eat the meals (OMAD style - one meal a day)
Definitely makes things easier for me. What more can you ask for?
Very fresh, tasty food
Food is delicious and fresh every day with tasty dressings.
Gourmet Flavors
Not easy to make something in a container taste good, or should I say great. I've had both their Keto and LowCal meals and they are delicious.
Yummy + healthy
Isabel's meal plan is my go to meal if I want to eat a little healthy. I tried other healthy meal plans but Isabel's food taste better. I love all their salads simot sarap talaga.
Though the food taste good and their keto meal is well balanced I prefer regular meal than the keto cause you put a lot of tofu on your keto meal which is common for keto diet. I just hope there are other alternative you can offer for people that dont eat soy/tofu. Also hope you can change your menu from time to time para iwas sawa.