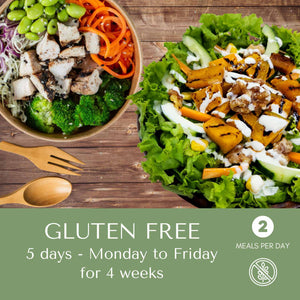 A wholesome twist to your regular diet, offering a healthier alternative that perfectly complements your dietary needs while enjoying delicious meals 😋
DELIVERY SCHEDULE:
Monday to Friday
We deliver daily from 5:30 am to 8:00 am for LoCal, Daily Keto, High Protein, Pescatarian and Gluten Free meal plan and 8am to 12nn for one meal a day meal plan.
NOTE: We can't guarantee exact time of delivery as delivery routes may change daily. 
Gluten Free Meal Plan
Regular price
₱3,750.00
₱0.00
Unit price
per
Tax included.
MENU FOR THE WEEK
Sept 25 - Sept 29, 2023